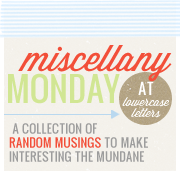 1. Teething is horrible. My little lady turned from a sweetheart into a terror overnight. And it kills me that I really can't do anything to help her. I just hope that these teeth poke through ASAP.
2. Paul started back to RMC today. He has one class on Mondays - what a rough life lol. Hopefully this semester won't be as crappy as last semester.
3. I start doing childcare for a friend's child tomorrow. Once a week I will be taking care of him...I'm a bit nervous as he's almost 5 years old and that's so different than how things are with Nora. Hopefully it will all go smoothly. If y'all have any ideas on how to keep a 5 year old entertained, I sure would appreciate them.
4. Pinterest is sucking up too much of my time. But I love it. Really really love it lol.