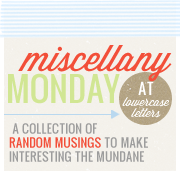 Oh Monday – it already feels like this week has been SO long and it has just started lol.

So here are some randoms to begin the week.
1.

Yesterday was a weird day for us.

I didn't sleep well on Saturday night, woke up several times with major heart burn and stomach pains.

I know I only have 12 weeks left til this baby arrives, but I am SO ready to be done soon lol.

And then we had a Nora scare where she tumbled down the stairs, worst experience of my life.

She's done it once before with just me at home but this time Paul was home too so he was hurdling to get her so she didn't get hurt – she's a-ok and only has a teeny scrape on her chin.

But that didn't stop us from being SUPER WORRIED all day yesterday.
2.

I have the best husband in the world.

Seriously.

He has been so sweet in putting up with my crazy preggo mood swings.

And yesterday he took me to get a BeaverTail downtown at FebFest.

And it was absolutely delicious.
3.

Our realtor is coming over tonight to talk to us about what we need to do to get our house sale ready.

I'm already starting to panic.

We can't list our house until we have our posting message in our hands which could come anytime in March or April, but we have a REALLY small window of optimal time to sell our house.

If we list too late we will miss the prime market opportunity in our area.

And all of this is going on while we're getting ready to have the baby and Paul is trying to finish his thesis and get ready to graduate and trying to secure a home in our new posting location.

No stress at all, right? Lol.

I just have to relax and laugh about it.

Even though that's SO hard to do.
4.

I have started my moving binder.

And so many people are making fun of me for it.

The reason I am making/made one is because there are so many ins and outs to a military move in Canada.

There is a 125 page manual that covers everything that we are entitled to in our move, from what type of hotel room we can stay in, to what is covered when we sell our house and when we purchase or rent our new home.

And I figure I might as well try to be as organized as possible with that since we will have so much other chaos going on.
5.

Nora is getting to be such a big girl – she is starting to sign more and starting to say more too.

I hope that she starts to talk more soon.

I'm excited for Valentine's Day with her, we plan on making some crafts this week and next week to celebrate, so it should be fun.
6.

I'm also excited this month and sad at the same time.

Paul is heading to Europe for a week without me.

That's the sad part.

The exciting part is that my Mom is coming to visit that week so I won't be all alone with Nora for an entire week.

Normally it wouldn't be a big deal but since I'm still teaching – it's tough to find a baby sitter who can watch her for the fulltime that I'm teaching – Tuesdays it would end up being almost 8 hours of watching her when you include driving time.
And that's all for today – Happy Monday!!!