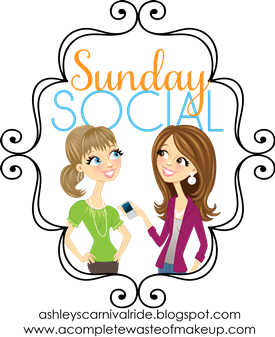 I'm linking up to Sunday Social for the first time - I thought it was fitting because Paul was complaining about how heavy my purse was today and that I must have EVERYTHING in it lol.
It's tough to talk about a "purse" because now that I'm a Mom - most often I'm carrying around the diaper bag. But I recently changed my Coach Diaper Bag into my carryall tote that I use and Nora's diaper stuff gets put into a MEC backpack. It's easier to carry the backpack when I'm wearing my baby :)
1. Favorite handbag you've ever owned
That would be either my Pink Coach purse or my beloved Coach Diaper Bag. Both were presents from my Dad (well from my parents, but I'm pretty sure it was my Dad who bought them lol)
2. Dream handbag you lust over
I don't have a dream handbag... I wanted my Coach Diaper Bag and I ended up getting it so I was pretty stoked about that.
3. Daily essentials in your purse or work bag
- Cell phone
- Gum
- Wallet
- Keys
- Life Planner
4. What's in your purse(with pictures)
This is the beautiful Coach Diaper Bag.
Contents 1 - Wallet, Binder, Notebook and Erin Condren LifePlanner
Contents 2 - the candy. I think I have a sweet tooth lol. Nibs, Skittles, Popcorn and Smarties and AN APPLE. I am semi-healthy. I swear.
Contents 3 (go clockwise starting at the top)- Receipts, Smashbook Tape, business card holder, Keys, Granola Bar, PENS, Giftcards. I think I have a pen/stationary problem. I love pens. A lot. It's an issue. As you can see.
Contents 4 - Gum, Hand sanitizer, Nail Polish and 2 lipsticks and 3 lipglosses.
Not pictured - the 2 packs of gum that I took from the bag and put in my back pockets at work and the water that I finished drinking before I took these pictures AND the iPhone that I took the pictures with :)
There you have it. I carry WAY too much around with me on a regular basis lol.