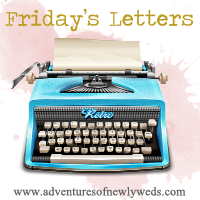 Dear Clinic
You suck. I've been waiting since 9:15.
It's 10:36 and I'm no closer to being seen.
Whoever came up with the brilliant idea to not have a
nurse be able to do this at my doctors office was stupid.
From angry girl who is STILL waiting.
Dear dance studio
Don't make me angry anymore.
I just want to teach and have fun.
I'm sick of the politics and bs. Get over it.
Sincerely a frustrated teacher
Dear husband -
Thank you for letting me nap for 2 hours yesterday.
It was awesome.
Love your loving wife
Dear Norabear -
Thank you for sleeping all night-it was amazing.
I feel super rested today.
Love your happy rested Mama
Dear Women's Expo -
Thank you for letting me win a one hour massage
that I am redeeming later this afternoon! I'm so excited for this.
From one excited to be relaxed even more girl.
Happy Friday!!
Oh and one more thing :)
Dear Lord, Thank you for all the blessings you've given us, including this one :)
Love OCdt and Mrs. H and Norabear
- Posted using BlogPress from my iPhone