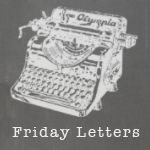 Please slow down a little bit. Things are moving too fast right now.
Please start sleeping better. Last night sucked.
Thanks for crying it out tonight.
I'm sorry we don't have a cool nickname for you yet.
We're working on it, I promise.
Could you try to not make me sick this week anymore?
I'm not down with this whole day/night/all the time sick feeling.
Thanks for putting up with my crazy hormones.
And really for just putting up with me.
I swear I'll be nicer in the 2nd trimester :)
I love you puppy but if you jump on the counter and eat my
waffles (or anything else) again, you're going to be in BIG trouble.
Why am I craving your fries dipped in BBQ sauce? That's weird
And expensive. Please stop building in locations that are close to me.
The pregger girl who loves Fries.
Thanks for the plane ticket!! Norabear and I are PUMPED!!
Love your fave baby girl.
Thank you for the Rider blanket.
Thank you for the cabbage patch hat.
Thank you for the unstarted Jets blanket
(I figure advance thanks is a good thing, right???)
Only 8 sleeps til we're at the Georgia House!!!