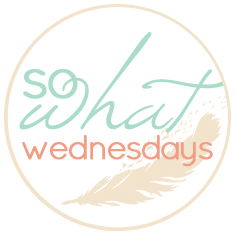 Linking up with Shannon for So What Wednesday again!
-
if I didn't post yesterday, I had no words – I'm still very saddened by what happened in Boston Monday afternoon. We had a friend who was running in the marathon – thankfully she finished earlier and was already gone when everything happened.

But we also have a friend who was in the hotel across the street with her little girl – they are safe.

I still am in shock that something like that happened.
-
If I worry about what life will be like for Nora and Baby A when they get older.

The world we live in is changing day by day (and yes, that is from a musical – 5 points if you can name it).
-
If my Momma is coming out to visit again.

She has business nearby next week so she's coming out this week to help out.

Hopefully Baby A will be co-operative and arrive while she is here.

But knowing my luck, Baby A will be stubborn just like the rest of us lol.
-
If I keep dreaming of the things I want to buy when we move, and we're moving into a smaller house and we actually need to downsize…
-
If we are going to buy Nora a toddler bed and not a twin size bed – she is SO small and she doesn't take up any room, with downsizing to a smaller house and Nora and Baby A having to share a room, it makes so much sense to me.
-
If I don't do much during the day anymore.

I'm so close to being at the end of my pregnancy (10 days to the "new" due date), and I'm so tired all of the time lol.

Running around after Nora takes a lot of energy.
-
If I joke about trying to bottle up my child's energy so I can sell it.

Seriously, if someone could figure out how to do that – they would make SO much money lol.
-
If I've been eating Apple Toaster Strudels for breakfast everyday and the fact that I didn't have any left this morning almost made me cry… I blame it on hormones lol.
HAPPY WEDNESDAY!!

Hope you all have a wonderful hump day !!!