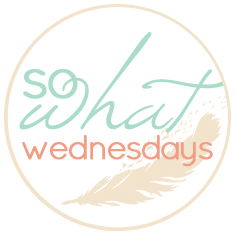 Linking up this week for So What Wednesday!
-
if I'm writing this post on a Tuesday not a Wednesday, I'm trying to blog more and stay on top of things
-
if I've been eating 2-3 homemade sno cones per day, I'm at the end of my pregnancy, it's really just ice right??
-
If I'm panicking about our move, and selling the house, and Paul's graduation, and having this baby – that's a lot to throw at a person in a 6-8 week time period.
-
If my child has been taking either REALLY long morning naps or a short morning nap and a longer afternoon nap every day.

I'm not going to complain about this, I can actually get things done.
-
If I'm super happy to be done teaching right now, it's not that I don't like the kids, I just don't enjoy the drama that goes with everything and really, I've been having major pains in my hips, back and stomach and it's hard to move.
-
If I've complained more this pregnancy.

I'm not used to feeling like this and it's really hard for me.

I try not to be too much of a Debbie Downer, but I do really feel like I have been lately.

I'm trying to be positive, it's just hard.
-
If I get frustrated when people say one thing and then do another.

We have a couple sets of "couple" friends that have been doing that lately and it's really starting to get frustrating.

I honestly don't care what you decide to do, but don't moan and complain and say life is so hard/rough/you don't have time and then turn around and be like, oh, we're ready for our move and to list our house today… aren't you?

No I'm not.

I'm 9 months preggo with a 21 month old, it takes some time.
-
If I'm SUPER EXCITED that my Mom will be back here in a weeks time.

And that there is a teensy chance my Dad might come out for a visit once Baby A arrives too.
-
If I'm happy that someone else's parents aren't coming until graduation (although it was offered last night – I said no immediately, that would add far too much stress lol).
-
If when I cleaned out the basement, I realized I have approx. 4 rubbermaids of craft projects that are either "on the go" or needing to be started… that's okay, right?
Hope you all have a WONDERFUL HUMP DAY!!!